Galvanized Steel Picket Fence for Perimeter Security
Galvanized Steel Ornamental Picket Fence: Rails, Pickets and Posts
Galvanized Steel Picket Fence can be zinc galvanized picket fence or powder coated steel fence. The panels are manufactured with strong steel pickets and rails available in a wide range of sizes and styles. Steel Tube / Bar Panels are attached with high-strength steel or aluminum brackets to galvanised square tubular steel or aluminum posts. The Spear top design of this tubular fence creates an aesthetically pleasing fence which at the same time deters intruders. This security level ornamental fence is suitable for gardens, residential, industrial and commercial properties, schools, pools and boundary fencing.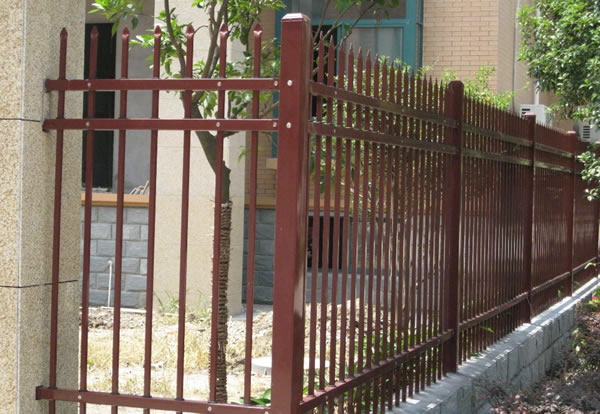 Pressed Spear Top Tubular Steel Ornamental Fence
The common size:
(1) Horizontal rail: 32x32x1.2mm(thick.)
(2) Vertical rail: 16x16x1.0mm(thick.) 
(3) Spacing:13cm
Australia Standard Welded Tubular Steel Picket Fencing
Spear-top picket fences with pressed spears top on the tubular posts
provide the classic outlook, bringing an aesthetically pleasing visual appeal to the residences. Spear-top picket fence railing has decorative rings. Scrolls can be added for an even more ornamental look.
Material: Steel tube, or galvanized steel tube.
Surface: Hot dipped galvanized, Powder coated.
Color: Any RAL colors are available.
Application: Residential and villa fencing; also security of business and industry area, factories and workshops, public buildings, parks, roads.
Major Fencing System Types:
Fence Panel Types
Height
Width
Rail Size
Picket
Post Size
Post Length
Flange Option
900
1800
2000
2400
32*32*1.0
32*32*1.2
16*16*0.8
16*16*1.0
50*50*1.2
60*60*1.5
1200
120*120*4.0
150*150*5.0
1200
1500
1500
1900
1800
2300
1500
2400
2750
3000
40*40*1.2
40*40*1.5
19*19*1.0
19*19*1.2
50*50*1.5
60*60*2.0
1900
120*120*4.0
150*150*5.0
1800
2300
2100
25*25*1.2
25*25*1.5
2700
2400
3000
1800
2400
2750
3000
50*50*2.0
50*50*2.5
25*25*1.5
25*25*2.0
60*60*2.0
80*80*3.0
2300
150*150*5.0
200*200*6.0
2100
2700
2400
3000
2700
3500
Tubular Picket Railing System Processing Technology 
Process: Galvanized pipe cutting; spear pressing; tube hole punching (punching holes for vertical bar; punching of horizontal bar; punching holes of post); welding; washing; surface treatment; packing; installation.

1. First cut the steel or aluminum tube into the required length
2. Press spear tops  
3, Punching holes of steel tubes
4. Use the mould to fix the cut tube then weld the rail and pickets. there are two welding methods:
 A. full welding
 B.point welding 
5. Washing / Surface Cleaning: The workers first use the small polish machine to polish the welding points one by one. After finished all the  welding,using the big polish machine (steel sand ) to wash the oil.
6. Surface Treatment: Then finish the zinc plating. The last surface treatment can be hot dip zinc plating or zinc plating plus power coating.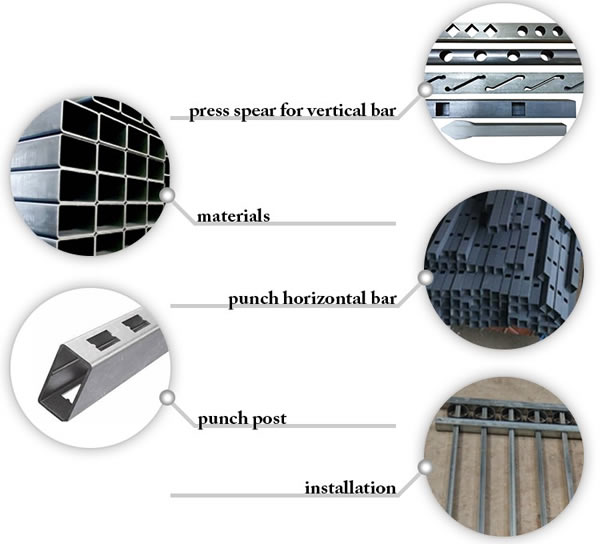 Typical Horizontal Bar, Vertical Bar and Installation Information
Installation

height

(mm)

Post spacing (mm)    

panel

post

Plate dimension (mm)

Horizontal bar  quantity

Horizontal bar profile dimension       (mm)

Vertical bar profile dimension (mm)

Length (mm)

Dia O.D (mm)

1600

3000

2980*1500

3

40x60x1.5

25x25x1.2

1900

80x80x2

1900

3000

2980*1800

3

40x60x1.5

25x25x1.2

2200

80x80x2

2300

3000

2980*2200

3

40x60x1.5

25x25x1.2

2600

80x80x2
Applications
Security Fencing with Ornamental Effects:
The right combination of fence height, picket spacing, fence style, and material components can meet varied fencing needs of our customers.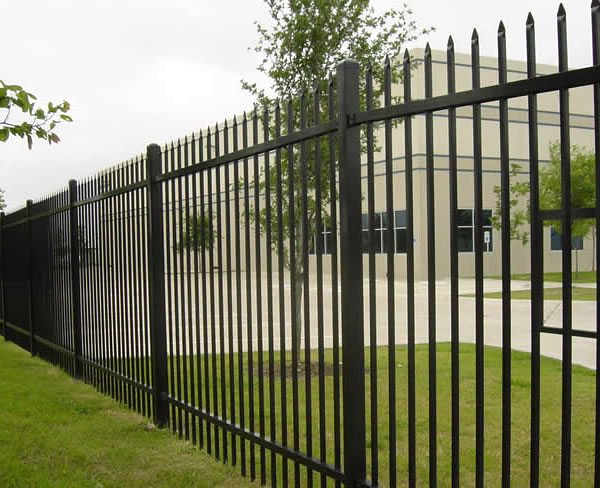 Spear Top Galvanized Steel Picket Fence for Villa Perimeter
Material: Hot-dipped Galvanized Steel tube.
Tubular security fence panel specification: 
Rail(mm)
Picket(mm)
Center space(mm)
Post(mm)
32*32*1.2
40*40*1.2
45*45*1.2
32*32*1.0
40*40*1.0
45*45*1.0
16*16*1.0
19*19*1.0
25*25*1.0
16*16*0.8
19*19*0.8
25*25*0.8

116
124
130
116
124
130

50*50*1.5

60*60*2.0

80*80*2.0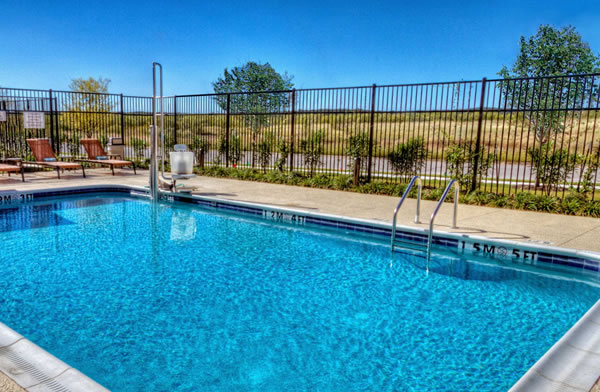 Flat Rail Top Steel Section Picket Fence for Swiming Pool Security: Materials:
Prime steel, also aluminum and alloy. Surface treatment can be hot dipped zinc plating, plastic spray coating and plastic/epoxy/polyester coating.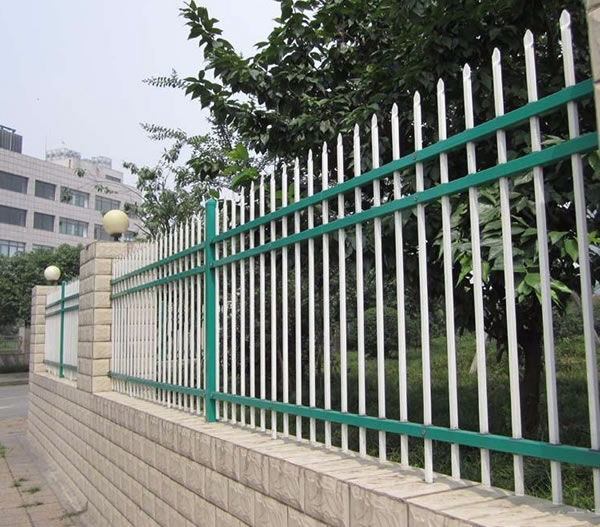 Powder Coated Security Squash Top Steel Fencing for residences backyards, constructed with 25 x 25mm square galvanised steel tube pickets with a pressed spear top. The steel pickets are inserted through laser cut holes in the 40x40mm square galvanised steel tube cross rails.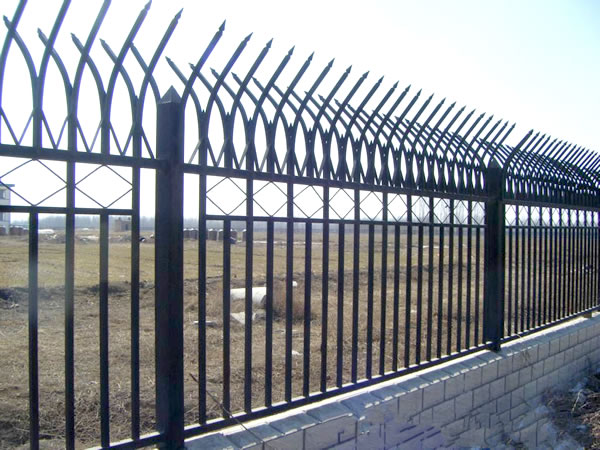 Black Powder Coated Galvanized Steel Bar Fencing for Farm Bounderies
Tubular railing system hot galvanized, Australia tubular steel panel fence
Black Powder Coated Metal Steel Picket Railings
| | |
| --- | --- |
| Material | Galvanized Steel Tube |
| Surface treatment | Galvanized or powder coating |
| Infill square pipe | 20x20,25X25mm;40X40mm,45X45mm |
| Feature | Easily Assembled |
| Usage | Garden, School, Residential, Swimming Pool |
| Color | Blue, Green, Black, White while black is popular |
| Square pipe post | 60x60mm,80x80mm |