Powder Coated and Galvanized Steel Studded T Post
Galvanized Steel American T Post for Fencing Panel Fixing

Material: Low carbon steel
Length: 5', 5.5', 6',  6.5',  7',  8'
Weight: 0.95lb/feet, 1.25lb/feet, 1.33 lb/feet.
Surface treatment: Barbed, green painted, red painted, galvanized.
Packing: 5pcs / bundle, 40 bundles per piece, 200 pcs per big piece.
Weight and Packing Information:
MEASUREMENT
LENGTH
5'
5.5'
6'
6.5'
7'
8'
SPECIFICATION
PIECES/MT
0.95LB/FEET
424
389
359
333
311
274
1.25LB/FEET
330
301
277
257
240
211
1.33LB/FEET
311
284
262
242
226
199
American red painted 6.5' t post , with pressed studs to post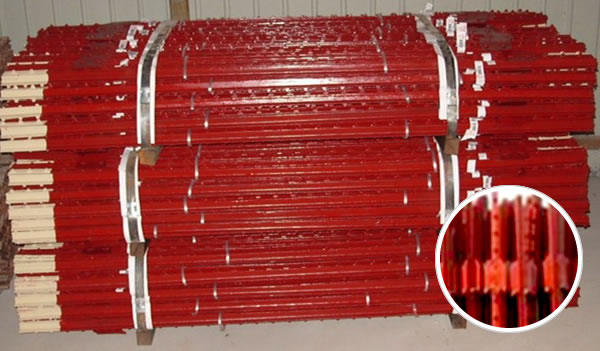 Raw material: Billet steel and rail steel.
Sizes: from 0.85lb/ft to1.5lb/ft,Common length:5',6',7'etc
Plate of the post: The studs is pressed to the post
Packing: 5 pc sub-bundles,200pcs per pallet, then use PP packing belt
Green Painted T Studded Post, Punched with Spade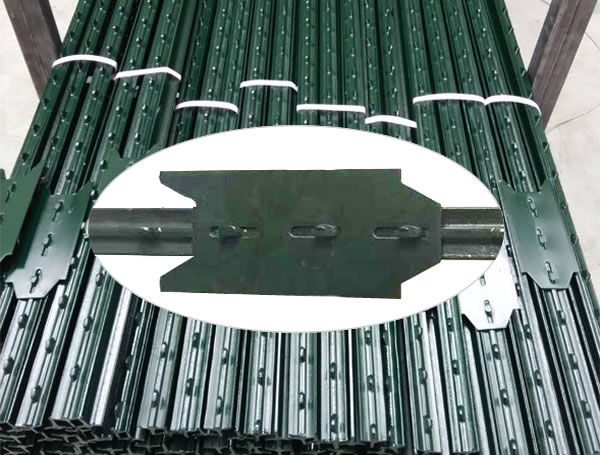 Material: low carbon steel, rail steel 
Surface Treatment: Painted, non-painted, hot-dipped galvanized.
 Assortments available:
Punched,with spade or without spade
Green painted, Black Painted,UV Inhibitors
Application: T post is used to be driven into ground, the flat plate helps stabilize the post for fencing installation.
Studded T Post

Weight:
0.83, 0.85, 0.93, 0.95, 1.15, 1.25 and 1.33lbs 
Painted or without paint 
Available with spade or without spade 
Material:
rail steel and billet steel