Y Posts and Fence Railing / Panels / Fences
Y Star Pickets for Fence Railing / Panels, Australia and New Zealand Style
Y posts are also named as Star Picket, Star Post, Metal Picket, Steel Picket, etc. This style of steel posts in cross section form a three pointed star. Holes are pre-drilled along the length of the post to allow wires to be attached to the picket for fixing to Metal Fence. Y posts are widely used in installing temporary fence and field fencing products such as cattle fence,sheep netting fence and security fence.
We supply two major corrosion resistant treatment: Galvanized steel and bitumen coated steel Y star pickets.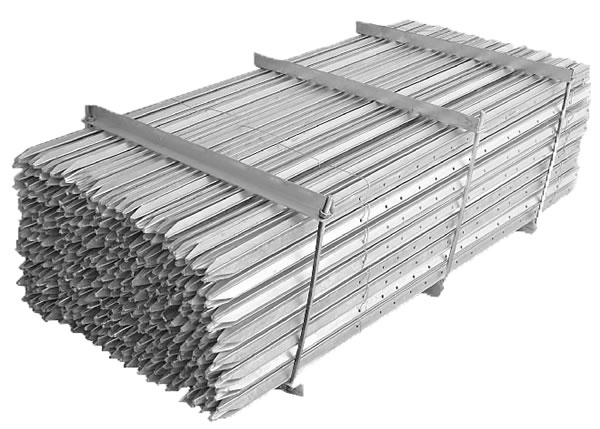 Long lasting and re-usable Star Shaped Steel Fence Posts, easy to handle and install.
Unit Weight Calculation
Measu-
rement
Y fence post ( For Australia & New Zealand Market ) Length
0.45 M
0.6 M
0.9 M
1.35 M
1.5 M
1.65 M
1.8 M
2.1 M
2.4 M
2.70 M
3.00 M
SPEC
PCS/MT
2.04 kg/M
1089
816
544
363
326
297
272
233
204
181
163
1.90 kg/M
1169
877
584
389
350
319
292
250
219
195
175
1.86 kg/M
1194
896
597
398
358
325
298
256
224
199
179
1.58 kg/M
1406
1054
703
468
422
383
351
301
263
234
211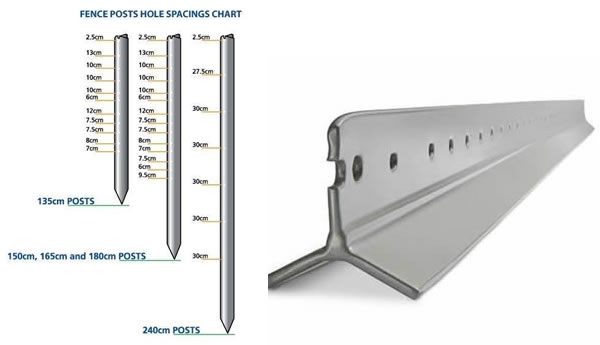 Products Application
For protective wire mesh fencing of express highway and express railway;
For field/ farm fencing of cattle farms, horse farms, goat farms;
For security of forestry and forestry source protection;
For isolation and protecting husbandry and water sources;
Fencing posts for gardens, road and houses.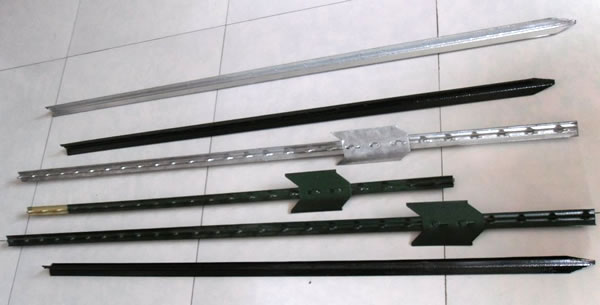 Field Fence Y Post for Both Hinged or Fixed Knot Woven Wire Fence Meshes
Steel posts for hinged knot field fence fixing used in agriculture fields.
Australia Y Shape Steel Star Pickets Post for Cattle Fence
Y steel fence post features its three-pointed star shaped cross section. The tapered ends make it easy to be installed and the plain head is engineered for easy hammering the post into ground. Due to its high quality and stability, it is popular with most Australians, New Zealanders. 
Advantage of Australia Y fence post
This kind of fence post enjoys an improved rate of 30% in its mechanical property and physical propery compared with common steel posts with same section size;
Have nice appearance. Easily used, with a low cost;
 Long service life. 
                  Australia Y shape Steel Star Pickets Post for Cattle Fence
Material
steel
Post Length
1.5-2.5m
Unit Weight
1.4kgs,1.71kgs,1.9kgs per meter etc
Surface
Green painted, Hot dip galvanized, No paint, bitumen coated.
Usage
Farm fencing, garden fencing, security farming
Packing
10pcs/bundle, 200pcs or 400pcs/pallet
Production QTY:
1000tons/month
MOQ:
1tons
 Specification: 
Product
Specification
 
pcs/bundle
Y Shape Cattle Fence Posts
28x28x30x3.0mmx2.04kg/m
 
10
28x28x30x2.6mmx1.90kg/m
Galvanized
10
28x28x30x2.5mmx1.86kg/m
 
10
28x28x30x2.3mmx1.58kg/m
Powder coated 
10
 Other types can be as your demand.