Powder Coated Galvanized Steel Welded Wire Fence
Welded Architectural Fence Panels
Typical panels have a width of 8.2 feet and heights ranging from 2 to 8 feet. The panels have vertical barbs of 1.2 inches on one side and are reversible (barbs at top or at bottom). Mesh sizes are 7 7/8" x 2", and 4" x 2" for the beam sections. The heavy wires guarantee strength and rigidity.
Posts
The panels are attached with high strength steel brackets to the front side of galvanized steel square tubular posts (2" x 2").
Coating
The welded mesh panels are manufactured using galvanized steel wire or galfan wire, with powder coating of excellent Weatherability and Gloss Retention in U.V. exposure.
Colors
Standard available in black, custom colors are available.
Powder Coated Steel 3D Bending Mesh Fence Panel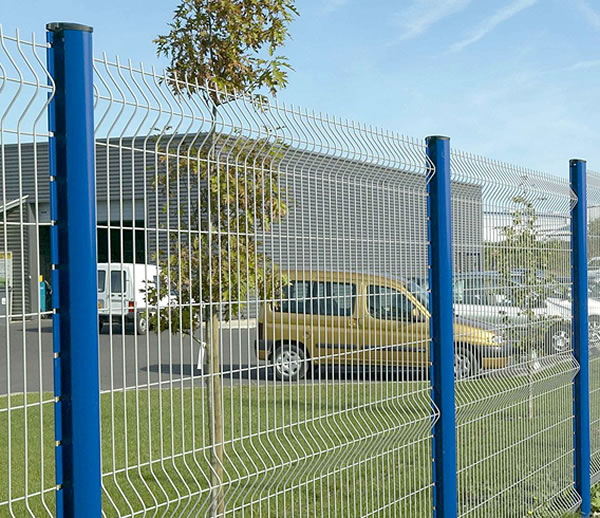 PVC Coated Galvanized Welded Curved Mesh Commercial Fence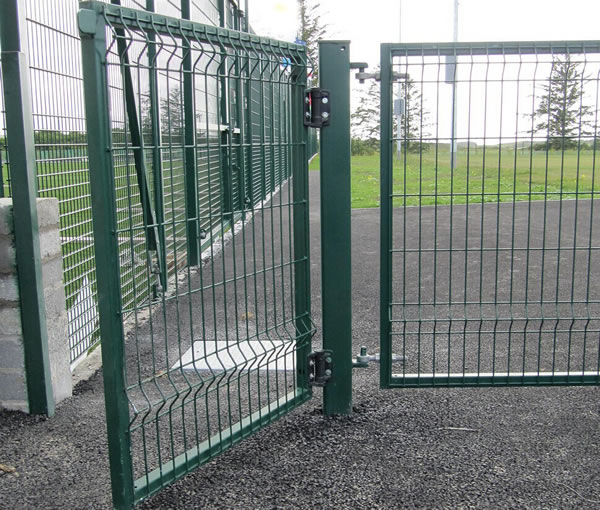 Dark Green Coated Galvanised Weld Mesh Fence Single Gate
Panel Specification:
Size: 2400mm (W) x 2100mm (H)
Mesh Aperrture: 150mm x 60mm
Wire:3mm Wire pre HDG, (HDG:50-60g/m2)
Pipe: Pre HDG 32MM OD ( 25NB) (HDG:70-80g/m2)
Base Specification:
Weight: 29kg +/- 1kg
611mm (L) x 230mm (W) x 150mm (H)
Colour: Orange
UV Resistant/Anti Ageing
Hot Dipped Galvanised Welded Mesh Temporary Fence Panel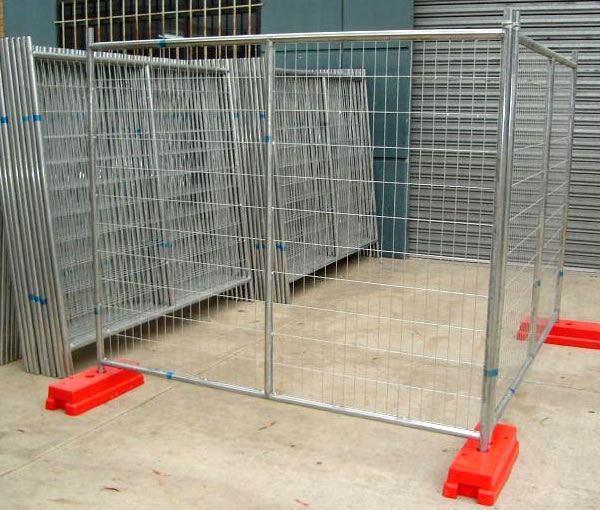 Canada standard pvc coated temporary fence
We supply Galvanized Weld Mesh Temp Fence for Canada, USA, Australia and New Zealand Market.
Temporary Fence Panel
Height x Length : 2100mm x 2300mm
Frame Tube : 32 x 2.0mm
Wire Diameter : 4mm
Mesh Size : 75 x 150mm
Material: Hot dipped galvanized wire & tube
Plastic feet filled with concrete:57x24.5x13cm, 34kg
Clamp:Hole distance 75mm or 100mm,hot dipped galvanized
One set: one panel + one clamp +one plastic foot
230sets per 20'GP container
270pcs with clamps per 20'GP container
450sets per 40'GP container
600pcs with clamps per 40'HQ container
Commercial Welded Wire Mesh Fence
Surface treament: Electro galvanized, hot dip galv. pvc coated, powder coated.
Wire Diameter: 3mm - 6mm as standard. 
Mesh Size: 50x100mm, 50x200mm as standard.
Fence Size:  Height: 1.5m - 3m, Length: 1.8m x 3m
Gate: Single gate, Double gate.
Fence Post: Round post, Square post
General Use: Private place, Garden, Playground, Express highway, Railway, Airport, Port etc.
Common Specifications
Panel height
Panel Length
Wire Diameter
Mesh Size
1.03m
2.0m
2.5m


3.0mm/4.0mm
3.85mm/4.0mm
4.0mm/5.0mm
4.85mm/5.0mm
5.0mm/6.0mm
5.85mm/6.0mm



50*200mm
50*150mm
50*100mm
75*150mm
1.23m
1.5m
1.53m
1.7m
1.73m
1.8m
1.93m
2.0m
2.03m
2.4m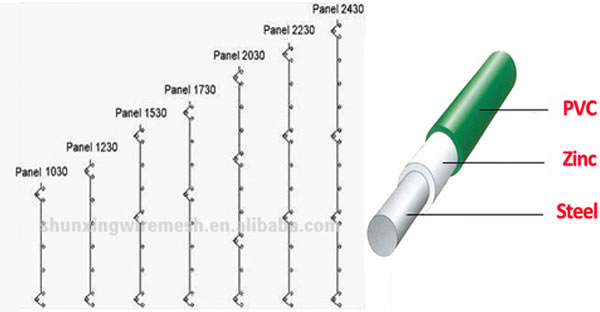 Steel Posts: Round Post / Square Post / Peach Post 
Rectangular Post
40*60mm,   1.2/1.5/1.8/2.0mm
60*60mm,   1.5/1.8/2.0/2.5mm
 Peach Post
70*100mm,   1.2mm
Round post
60mm,   1.2/1.5/1.8/2.0mm
48mm,   1.2/1.5mm
Post Height
per request
Bowed Top Welded Wire Mesh Fence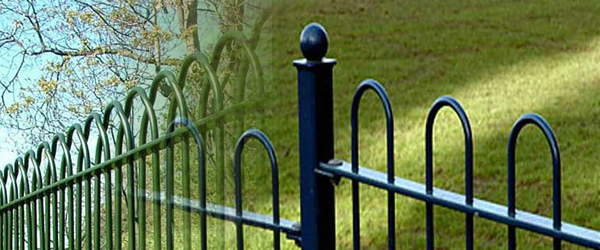 Bow Top Welded Mesh Fence at 900mm Height, 40x5mm Railing, 50x50 mm Round Post and 12mm Bars
Classification:
Welded Wire Square Hole Galvanised Aviary Netting Fence.
Galvanised Welded Mesh Dog Fence Roll 72" x 25.0m 2" x 2" x 2.50mm.
Welded Galvanised Wire Mesh Fence 1x1" 1x1/2" 1/2x 1/2" 15m 30m.
5 ft. x 50 ft. 14-Gauge Galvanized Steel Holland Welded Wire Garden Fence.


Square Tube or Round Tube Framed Infill Railing Panels for Temporary Control

Material:  Low-carbon steel wire, iron wire.
Wire Diameter: 3mm and more than it.
Mesh size: 50x50mm, 75x75mm, 50x100mm, 60x150mm, 50x200mm, 100x300mm,etc. or use the Pipe shape.
Panel size: 2100x2400,1800x2100, 1800x2400, or as your request.
Pipe out diameter: more than 2mm or as your request.

Temporary fence assembled, comes with one base  and one top clip.
Application: 
1. Commercial Fencing Uses                                    
2. School and Portable site safety           
3. Site Security                                               
4. Crowd control/ Vendor Security               
5. Residential Construction Sites                  
6. Restoration and Fire Damaged Sites     
7. Special Events (Concerts, Festivals, Cultural, Parades and Sporting Events)      
Green powder coated Euro fence welded mesh.