High Security Steel Palisade Fence Panels
Spiked Decorative Metal Fencing Barrier
Palisade Fencing provides a high level of security to the boundary line of any property at economic cost. The Spiked Steel Fence has simple but robust design makes this type of fencing extremely vandal resistant and very hard to damage. Due to this simple design the fence is extremely difficult to climb making it a good all round security fencing system.
The anti climbing Security Palisade Fencing System is widely used in the industry. As a commercial fence, using hot formed and cold rolled steel belts to form a secure panel. We offer mainly three types of tops, including "W" profile, "D" profile and angle iron. Available in standard heights from 1.0m for general demarcation to 3.6m high for high security.

Features
Our steel fence is Galvanized to BS EN ISO 1461:2009
Optional powder coating to BS EN 13438:2013; using non-toxic powder 
Pales secured with rivets or permacone fixings to minimize theft 
Matching single and double gates available 
Palisade Panel:
Height x Length : 1800 x 2750 mm
Material: "W" profile, angle iron and H post
Pale Top: Triple Pointed
Pale Thickness: 2mm
Horizontal Rail: angle iron 50x50x5.0mm
Post: 100x55x3.5mm H post
Surface treatment: PVC coated
Color: Dark Green
Picket and railing sizes commonly match each other as below:
Picket: 16X16X1.0MM Rail: 32X32X1.2MM or customized
Picket: 19X19X1.0MM Rail: 40X40X1.2MM or customized
Picket: 25X25X1.1MM Rail: 45X45X1.2MM or customized
Post: 50X50X1.5MM / 60X60X2.0MM or customized

Classification:
2.4m Height Palisade Security Fence
W and D Pale Palisade Perimeter Fence
Hot Dip Galvanized Palisade Fence
Decorative Palisade Fence with Sliding Gates
Wrought Iron Garden Palisade Fence
Industrial Palisade Fence
Palisade Fencing Pale Types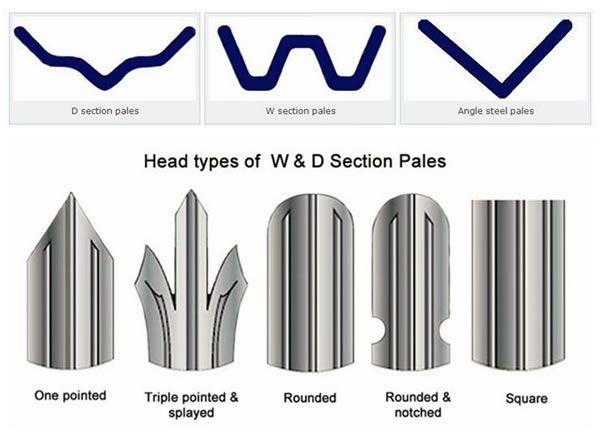 Palisade Fencing Popular Specification
Part Name
Specification
Component Quantity
"H" Post
100 x 55 x 5mm
1pc
Rail Section
50 x 50 x 5mm
2pcs
Pale Section
"D" Section
65 x 3.0mm
17pcs
"W" Section
75 x 2.0mm
17pcs
Fish Plate
115 x 30 x 6mm or 140 x 39 x 8mm
2pcs
Saddle head M8 Bolts
M8 x 40mm
34sets
Cup square M12 Bolts
M12 x 30mm
4sets
Surface Treatment
Hot dipped galvanized - Zinc Phosphate - Zinc Rich Epoxy Powder Coating - Polyester Color Powder Coating
Packaging
Wrapped with plastic film. 
Covered with carton board. 
Tie with steel belt. 
Covered with Your logo. 
Loaded on steel pallets.
Applications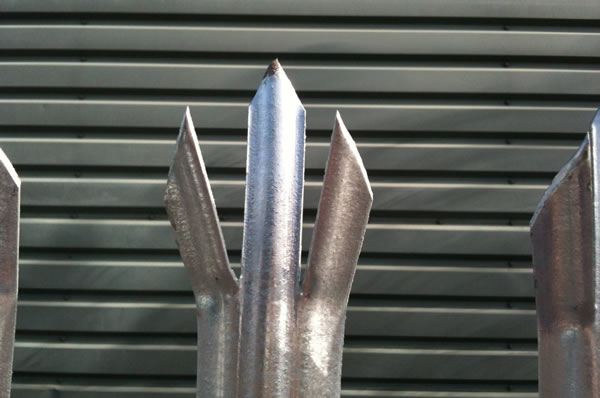 Anti Crashing Galvanised Steel Fencing - "W" Section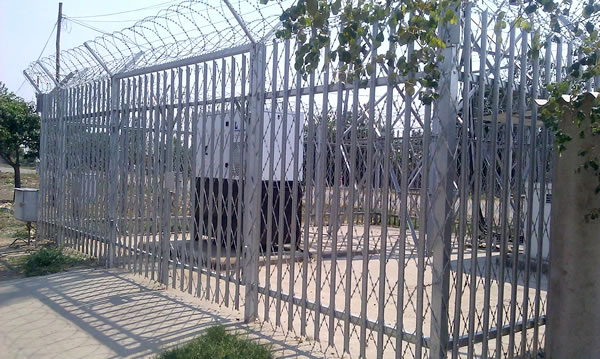 1.80m High Triple Pointed Palisade Security Fencing - Fully Galvanised, anti-thief High Security Spike Fence with Concertina Razor wire on top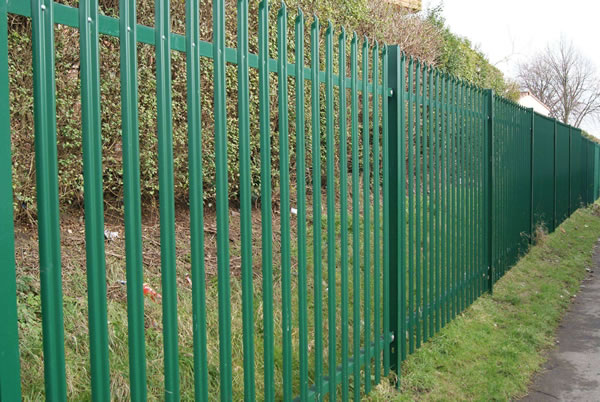 High Galv.& PPC GREEN Industrial Security Steel Palisade Fencing for Garden Boarders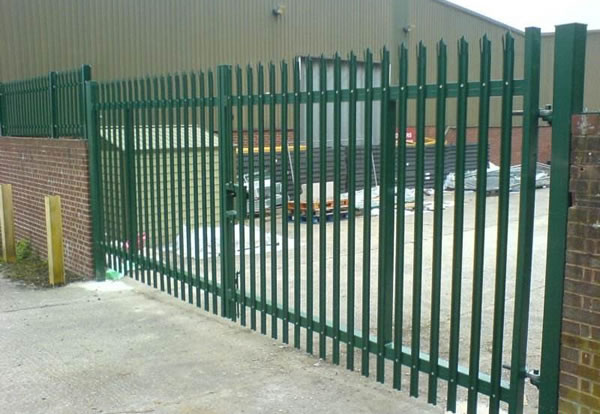 Heavy Duty Galvanized Steel Palisade Security Gates